The stationary carpet-shearing machine is a high-precision machine for the efficient shearing of a large-scale carpet production. The machine is available with manual or automatic shearing unit feed.
For light carpets we offer the machine with integrated vacuum table. Shearing width 300mm, working width 1,4m to 5,6m.
Stationary carpet-shearing machine TS 300 S allows a perfect finish and is easy to operate at the same time.
The cut off fiber will be sucked directly at the shearing aggregate. The suction hose and the power supply are always positioned in the right place by the help of the energy management chain.
Our task is to design a carpet shearing machine that
guarantees a perfect finish

is easy to operate

provides easy carpet handling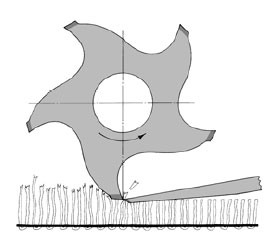 In the case of our newly developed stationary carpet-shearing machine TS 300 S this task is performed and guaranteed by the machine itself.
Our stationary carpet-shearing machine is a high-precision machine with tempered, hard-chrome plated guide shafts and service-free spherical bushings, as well as an accurately designed shearing unit functioning with exactitude:
The shearing roller made of high-quality tempered high-capacity high-speed steel can be re-sharpened frequently up to 30 times.
The shearing blade made of tool steel can be re-sharpened several times.
Modular machine structure:
Basic machine TS 300 S Complete basic machine made of aluminium profile with energy management chain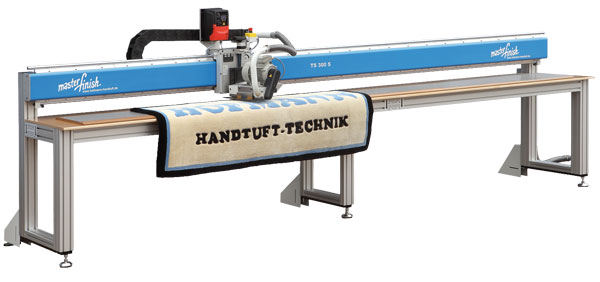 + Module R unwinding station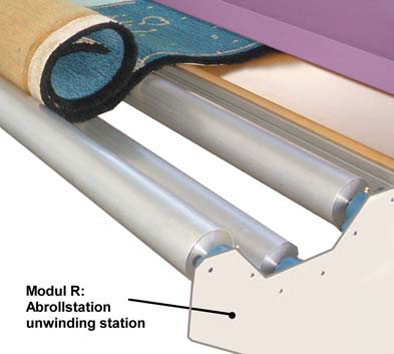 made of aluminium profile, continuously adjustable
+ Module W carpet collecting tray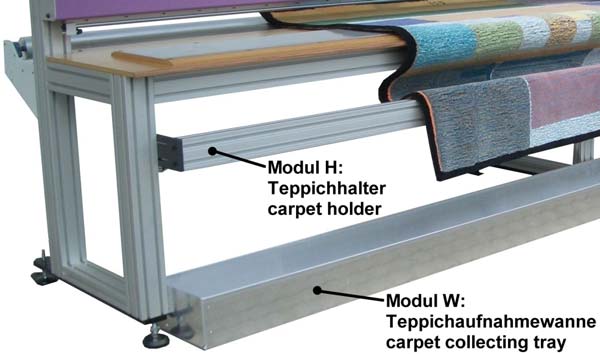 Frequency changer module FU
Shearing carpet piles made of pure wool does not cause "master finish" carpet shearing machines any problems.
With very fine yarn, synthetic, cotton, silk, linen etc. the shearing results depends much on the cutting edges of the shearing roller and shearing knife. These must be very sharp and also the shearing gap must be adjusted correctly and more closely.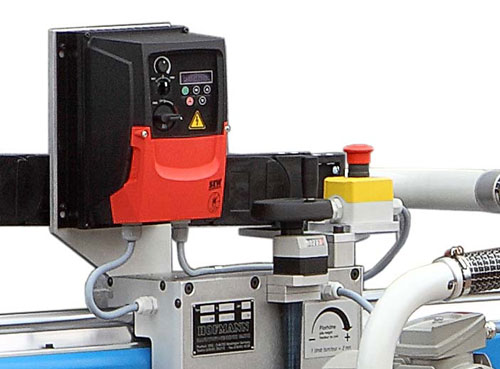 With the frequency changer the number of revolutions of the shearing roller can be reduced and also the direction of rotation can be changed for achieving a run in of the cutting edges at lower revolution. Thereby you reach a better cut, a perfect finish and a longer service life of the cutting edges.
When shearing light carpets the danger exists that the carpet will be sucked in by the shearing aggregate and pulled into the shearing aggregate.
With a punched table plate and a side channel compressor, installed at the substructure a vacuum can be produced which holds down the carpet on the carpet support.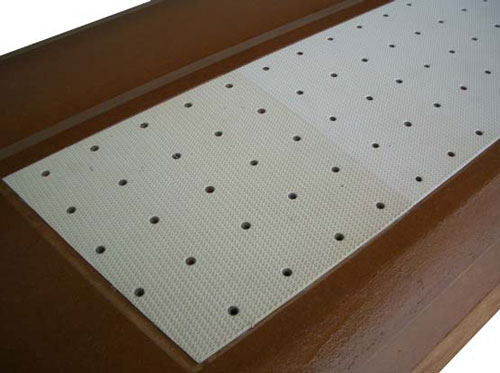 By switching (reversing) you receive an air cushion table for easier handling with heavy carpets.
Also other carpet supports (carpet adhesive) are available upon request.
| | |
| --- | --- |
| Shearing width: |  300 mm |
| Shearing depth: | infinitely adjustable |
| Shearing roller drive: | three phase motor with frequency converter |
| Working width: | optional (Standard: 1,4 m; 2,0 m; 2,6 m; 3,2 m; 3,8 m; 4,1 m; 4,4 m; 5,0 m; 5,6 m) |
| Shearing unit feed: | manual: The very easily running shearing unit can be moved manually across the carpet. |
| Carpet transport: | A carpet width of 300 mm is shorn, then the carpet will be displaced for approx. 290 mm by hand. |
In order to remove the fluff and to ″raise" the pile, a suitable suction apparatus is required. For this machine we recommend our
suction system type AS 200
, a highly suited system for continuous operation.