For very large carpets with a dense floor (i.e. hand-tufted carpet and berber carpets) we recommend our Mobile Carpet Shearing Machine MTS 300. It can be operated easily by one person. Shearing is done by walking backwards. The roles facilitate the forward rolling to the next line to be sheared. Shearing width 300mm.
The MTS 300 was constructed for pile shearing of handtufted carpets as well as for shearing off fluff from woven carpets and for removing excessive pile from fitted carpets.
In spite of the considerable shearing width of 300 mm, it can be easiy operated by only one person (similar to lawn mower). Reversing is facilitated by rollers. A simple movement allows infinite adjustment of the shearing depth.
It is necessary to connect the MTS 300 to a suitable vacuum unit.
Mobile carpet shearing machine MTS 300 with exhauster AGN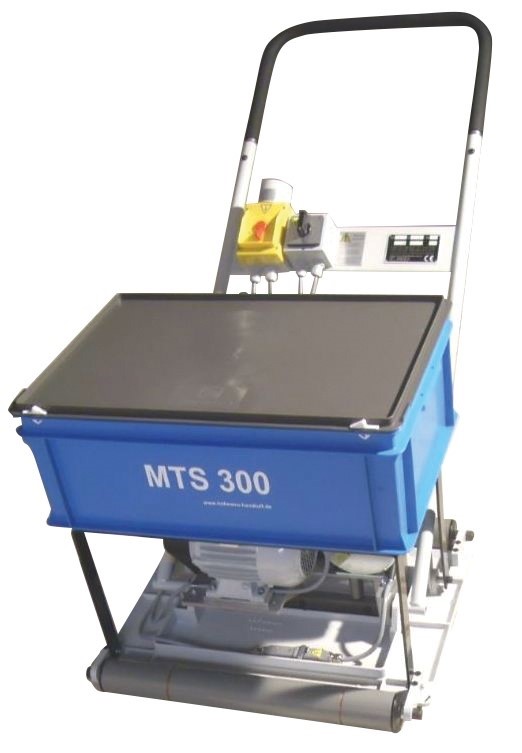 The Mobile Carpet-shearing machine with the mounted on dust extraction with dust bag has been developed particularly for shearing the "pilling" of large laid down carpet surfaces in cinemas, ballrooms, schools, homes for the elderly, etc. Shearing width 300mm.
| | |
| --- | --- |
| Electric motor |  0,55 kw |
| | |
| Shearing width | 300 mm |
| Weight | 34 kg |
| Dimension | 600 x 530 x 300 mm |